Airstream's Most Popular Touring Coach | Interstate Nineteen
According to recent sales data, the Airstream Interstate Nineteen is the top seller among Airstream's touring coach line for the second year in a row. It's clear why this model is so popular – it offers a great balance of functionality, flexibility, and luxury. Below we will cover some of the top reasons why people are choosing the Interstate Nineteen as their preferred recreational vehicle.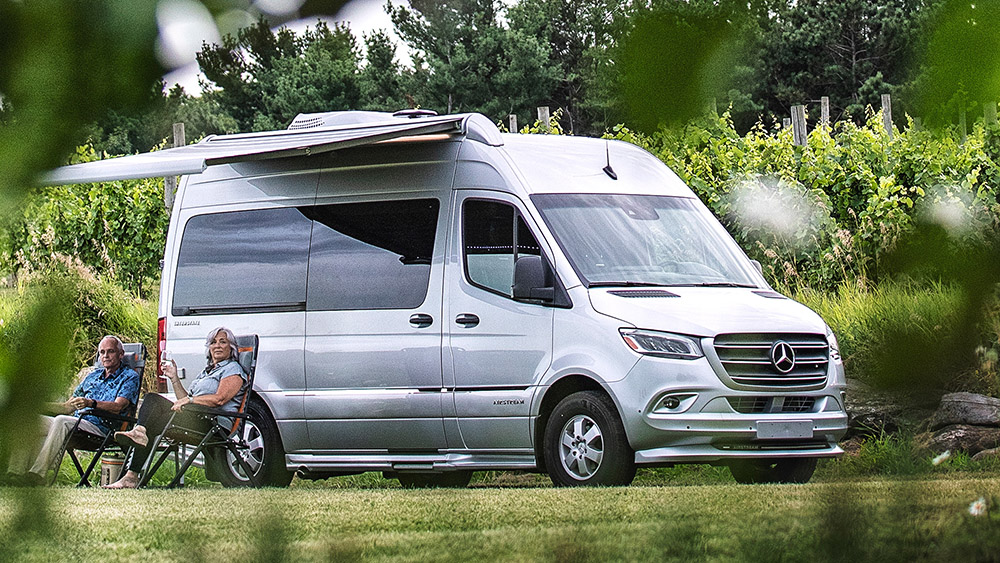 Ease of Driving
One of the major benefits of the Interstate 19 is its shorter 144" wheelbase, which offers a balance of ease of driving and maneuverability. With an exterior length of only 19'5″, the Interstate 19 can easily fit into standard parking spaces in crowded urban areas or into smaller campsite locations. This makes it a convenient and versatile option for those looking to park and camp in a variety of settings. For those looking to take the path less traveled, the Interstate Nineteen is available in a 4WD option as well.
Built on the legendary Mercedes Benz Sprinter van chassis, the Nineteen is equipped with many class-leading safety features. These features include multiple airbags for both the driver and passengers, collision prevention and lane assist technologies, rearview cameras and more.
Luxurious design
The Interstate Nineteen, like all Airstream touring coaches, stands out from the competition with its luxurious materials, finishes, and amenities. Each interior features Ultraleather seating, wear-resistant marine-grade woven flooring, premium hardwood cabinets, and Solid surface countertops, creating a comfortable and home-like atmosphere on the road.
Designed with maximum passenger convenience in mind, the Airstream Interstate 19 touring coach is equipped with a full suite of powered controls such as power-adjustable seats, a powered sliding door, an automatic entry step, push-button window shades, and more.
E1 Package
A new optional upgrade is now available for Airstream touring coaches that combines an advanced energy system with a single-fuel-source heating and hot water system. Known as the E1 Package, this upgrade is available across Airstream's lineup of Mercedes-Benz touring coaches and simplifies the travel experience by providing powerful off-grid camping performance. The E1 package provides up to ten times more battery power than a conventional system.
Largest Bed In Its Class
The Interstate Nineteen offers a versatile living space with a power sofa that can easily be converted into a sleeping area. During the day, you can relax or catch up on work on the sofa, and at night, simply push a button to transform the sofa into a  bed. The side seats also hinge and lie flat, allowing the entire rear of the coach to become a comfortable sleeping area. Measuring 66" x 73", the largest bed available in a Class B recreational vehicle.
If you have any questions or would like more information, please give us a call at 1-800-265-9019. You can also view our Current Inventory to see all of our Airstream models that are available.[/vc_column_text]
[/vc_column][/vc_row]