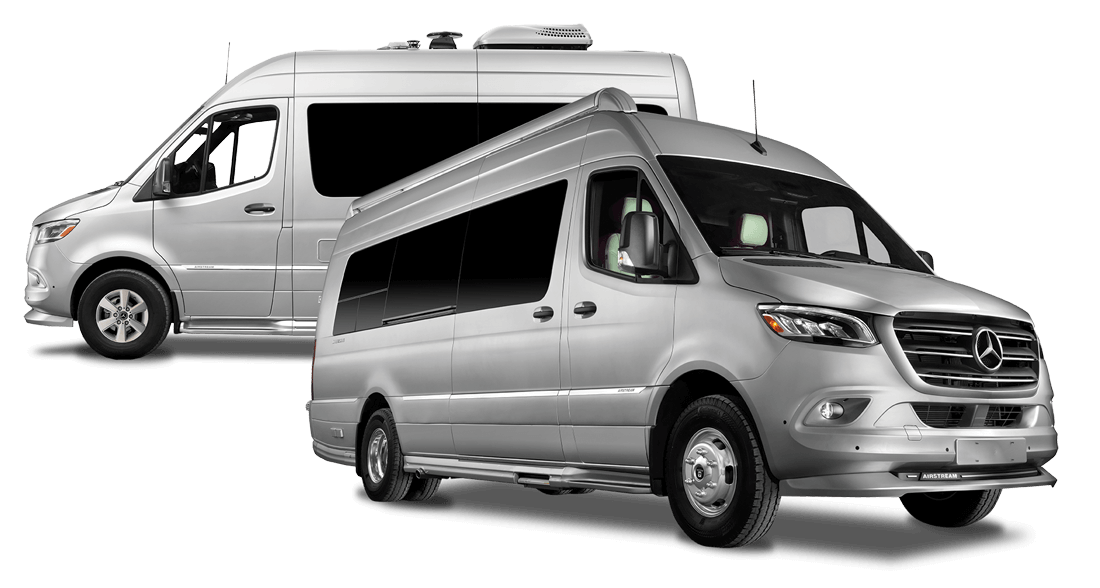 Airstream Interstate for Sale
---
The Airstream Interstate is a world-renowned class B, known for its hyper-detailed design. The Interstate touring coach reflects Airstream's level of quality through and through. Built on top of a Mercedes-Benz Sprinter chassis, the Airstream Interstate luxuriously uses a variety of stunning colors, finishes, and fabrics, so you'll ride in comfort and style. No detail has been overlooked to make the Interstate feel like home.
Airstream Interstate Specifications
Performance
---
For travelers in search of a versatile option for luxury travel with space and flexibility, the Interstate Lounge will have you feeling right at home. Find tremendous functionality, plenty of room to socialize, and sleeping accommodations you've only dreamed of.
Two all-new floor plans, introduced in 2016 Lounge EXT models, replace the rear power sofa with a pair of twin beds. With four interior layouts to choose from, you're in control.
Safety
---
Bringing the best qualities of the classic Airstream travel trailer to the popular Interstate touring coach series, the Grand Tour is built with a focus on long-term adventures for two.
Both Grand Tour floor plans feature a larger galley than the Interstate Lounge, with additional counter space, multi-functional storage areas, a flexible workspace desk, and an over-sized fridge and freezer. Perfect for long road trips.
Airstream Interstate Lounge EXT
E1 Optional Upgrade
Available With New Orders
A new, optional upgrade for Airstream touring coaches combines an enhanced energy system with a single-fuel-source heating and hot water system.
The E1 Package features a powerful Volta battery system that removes liquid propane (LP) from the equation and adds all-electric components powered by a massive 12.1-kilowatt-hour lithium battery pack. Living up to Airstream founder Wally Byam's promise to provide all the comforts of home, a Timberline 2.0 single-fuel-source diesel-fired furnace and hot water system simplifies the experience, efficiently heating the interior on chilly days and providing continuous hot water to the sinks and showers.
E1 Package Details:
Volta 12,000 Watt-hour Lithium (NMC, or nickel manganese cobalt) Battery Pack w/ Built-in Battery Disconnect 

Timberline 2.0 Diesel-Fired Hydronic Heating & Hot Water System 

1,100-Watt Single Burner Induction Cook Top 

3,200-Watt Pure Sine Wave Inverter 

Two 30 AMP DC-DC Converters with 12V Continuous Power 

Secondary 51 Volt, 6900W Alternator 

Victron 100-20 Solar Charge Controller

2 External Solar Ports (for adding up to 600W of additional solar power) 
Airstream Interstate Walkthrough Video