REI Co-op Special Edition Airstream Basecamp
If you're an adventurer looking for the perfect travel trailer, then look no further than the REI Co-op Special Edition. This model is truly adventure-ready, both inside and out.
It's built with sustainable materials and features that inspire explorers to discover new ways to camp beyond the traditional definition. The REI Co-op Special Edition is also equipped with rugged components and exclusive upgrades that make it ready for any adventure. And with a vast collection of REI Co-op kit items, you'll have everything you need to get out and explore.
Floor Plan
The REI Co-op Special Edition Basecamp 16 floor plan includes everything you need to enjoy your trip, all packed into a compact and smart space. Nestled in the front is the galley with a large panoramic window, giving you great views while you cook. The bathroom is also perfectly placed in the middle of the trailer, so you won't have to sacrifice any of your living space.
In the rear of the trailer is the versatile and ingenious living space. It's designed to accommodate anything you throw at it, whether you're relaxing after a long day of exploring or want to lounge, eat, and hang out with friends. With the REI Co-op Special Edition Basecamp 16 floor plan, you'll have all the creature comforts you need to make the most of your adventure.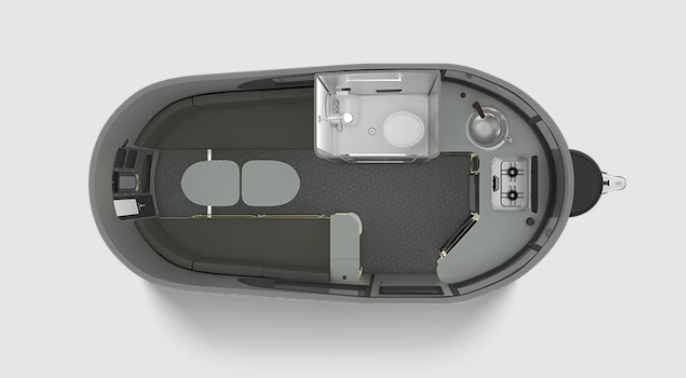 Galley
If you love cooking and enjoying the great outdoors, then you'll love the kitchen in the Basecamp 16 floor plan. Located at the front of the travel trailer, it provides a panoramic view out of the front windows, making it the perfect place to start your day.
The kitchen itself is equipped with everything you need to prepare a delicious meal, including a 2 burner cooktop and stainless steel sink with a graphite black faucet. It features a multi-layered green slate countertop that spans the front, with exposed birch plywood and plenty of storage space below. There's also an optional microwave and electric refrigerator.
One of the most unique features is the Water Filtration System. This innovative system is designed to reduce bacteria and microorganisms in your potable water, ensuring that it's safe to drink. It's connected to a 21 gallon onboard tank, so you'll have plenty of water to last you throughout your trip. But it's not just about the water itself – it's also about how you drink it. That's why the REI Co-op Special Edition Basecamp 16X includes a set of REI Co-op cups, so you can enjoy your water without relying on single-use plastics.
Wet Bath
This Wet Bath area houses both the shower and the toilet (optional composting toilet available), so you won't have to sacrifice any of your living space. One of the standout features of the bathroom is the shower head passthrough, which allows you to easily access the shower from outside the trailer. Overall, the bathroom in the REI Co-op Special Edition Basecamp has everything you need to stay clean and refreshed on your adventures.
Rear Living Space
This rear living space is perfect for lounging, eating, and hanging out that can accommodate up to five people. When it's time to get some rest for the night, the rear benches transform into a comfortable sleeping space that covers the whole back of the trailer, providing plenty of room for two people to sleep. Alternatively, if you need a little more flexibility, you can convert one bench into a bed and leave the other as seating space. Regardless of how you choose to use it, the rear hatch door area is a versatile and comfortable space that's perfect for getting a good night's sleep on the go.
Additional Features
The REI Co-op Kit
Every REI Basecamp comes with a 25-piece REI Co-op product kit. This kit includes everything you need to make the most of your trip, from REI Co-op brand and partner products like Flexlite Camp Dreamer Chairs, Campwell picnic table, kitchen utensils from OXO, towels, mugs, a rechargeable lantern, various sizes of Pack-Away Cubes, Camp Roll Table, and many, many more items. Best of all, the REI Co-op Kit fits perfectly inside the Basecamp and has dedicated storage as part of the design.
Large Rear Hatch Door
The Basecamp is designed with outdoor enthusiasts in mind, and that includes providing plenty of room for all your gear. The 26" x 46" rear hatch makes it easy to load and unload large items like bicycles and hiking gear.
Inside the trailer, you'll find 126" of available cargo space from front to back, with no obstructions to get in your way. This gives you plenty of room to store all your gear and keep it organized. But the storage options don't stop there. The hatch door itself includes three storage compartments, a whiteboard, and a blackout shade, providing even more space to store your belongings.
X-Package
The X-Package comes standard on every REI Basecamp. It features a 3" lift kit, which gives you extra clearance and stability on rough terrain. You'll also find off-road tires with stylized aluminum wheels, as well as stainless steel stone guards and front window solar protection, which help protect your trailer from damage.
Solar and Battery Power
New and exclusive to the REI Co-op Basecamp is the option to upgrade to 360 watts of solar power and a 200Ah lithium battery. This upgrade includes 4 flat solar panels attached to the roof and 2 – 100Ah Battle Born batteries.
If you have any questions or would like more information, please give us a call at 1-800-265-9019. You can also view our Current Inventory to see all of our Airstream models that are available.