2020 Airstream Classic 30RBQ Queen -
Stock# 13822P
Floor Plans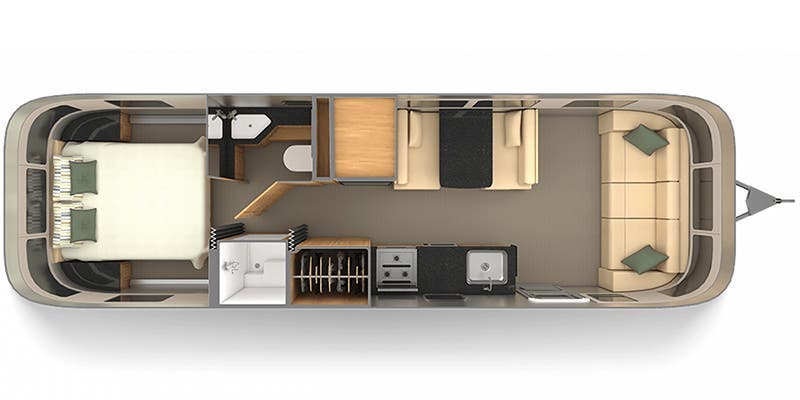 • 30RBQ Rear Bedroom Queen Bed Floor Plan

• Chestnut Ultraleather Interior Decor

• Cognac Maple Cabinetry

• (2) 100 Ah Battleborn Lithium Batteries W/Heat

• Victron Energy SmartShunt Battery Monitor

• Blue Ox SwayPro Weight Distribution Hitch System
Model: 2020 – CLASSIC TRAVEL TRAILER
Chassis
Aluminum Six Spoke Wheels • Electric Hitch Jack 3,500# • LRE 16″ Radial Black Wall Tires • 12″ Electric Drum Nev-R-Adjust Brakes & Nev-R-Lube Hubs • Power Stabilizer Jack W/Pads • Aluminum Step W/Extension • Call Colonial 800 265 9019 For Best Price • Spare Tire, Bracket & Steel Wheel • 10,000# Axle System • 10,000# GVWR.
Exterior
Bright Aluminum Finish • White Aluminum Finish on Roof • Classic Medallions & Graphics • Polished Rear Bumper W/Storage • License Plate Bracket w/LED Light • LED Lighted Acrylic Entrance Door Handle • Enclosed & Insulated Underbelly • Curbside Patio Awning • RS Window Awning • Roadside Rear Window Awning • Rear Window Awning • 3 pc. Solar Stoneguards • Call Colonial 800 265 9019 For Best Price • Stainless Steep Wrap Protectors (2 pc.)• Aluminum LP Bottle Cover • Double 4″ Round LED Tail/Brake/Turn & Back Up Lamps • Exterior Stainless Steel Shower Compartment • Exterior LP Low Pressure Service Port w/Quick Connect Hose and Adapter Fitting.
Windows & Doors
Solar Grey Front & Rear Panoramic Windows (Front only on 33FB) • Rear Trunk Door w/LED Compartment Light (Front and Rear on 33FB) • Vista View & Portal Windows • Keyed Deadbolt At Main Door • Main Door w/Opaque Window • Screen Door Guard • Galley & Bath Skylights w/Blackout Shades • Call Colonial 800 265 9019 For Best Price • Door Bell.
Interior Decor
Pleated Day/Night Oceanair Shades in Galley, Dinette & Lounge (Powered in 33FB) • Pleated Black Out Shades At Vista Views & Skylights • Roller Shades At Galley And Bath • Mocha Cherry or Cognac Maple Interior Cabinets With Raised Panel Doors With Soft Close Hinge • Real Wood Drawer Boxes With Self Close Drawer Slides • Panel Doors & Directional Reading Lights • Call Colonial 800 265 9019 For Best Price • Front & Rear Overhead Rooflockers w/Raised Panel Doors & LED Reading Lights • Bright Aluminum Interior Skin • Entrance Mat With Logo • Select Fabric Covered Window Closeouts • Extruded Aluminum Threshold • Luxury Woven Vinyl Flooring • Grab Handle Exit Assist • Satin Nickel Hardware • Corian Tops At Nightstands • Corian At Galley, Dinette & Lavy • Zip Dee Chairs (2).
Bathroom Decor
Towel Bar(s) And Towel Ring • Large Lavatory Sink Bowl • Satin Nickel Bath Accessories • Satin Nickel With Reeded Glass Shower Door (30RB) Clean Glass on 33FB • Large Medicine Cabinet At Forward Bath • Call Colonial 800 265 9019 For Best Price • Fiberglass Shower With Seat (36″ x 44″ on 33FB) • LED Shower Light • Retractable Clothes Line In Shower • Bath Door Hinged With Full Mirror • Full Mirror At Aft Lavy Wall (30RB) • White China Toilet (Macerator Style in 33FB).
Bedroom Decor
Removable Under Bed Storage Bins • Call Colonial 800 265 9019 For Best Price • Duvet With 2 Shams and 2 Neck Rolls • Pillow Top Foam Mattress With 2″ Memory Foam • Bed Pillows (2) • Call Colonial 800 265 9019 For Best Price • Power Tilt Bed (beds) With EZ Lift Up Bed Storage • Cedar Lined LED Lighted Wardrobes • 3 Throw Pillows • Sleeping Capacity Up to 5.
Galley Decor
Corian® Galley Top w/Brushed Aluminum Mesh Back Splash • Spice Rack • Sink w/Single Bowl Large 8″ Deep Stainless Steel • Pantry Storage • Galley Flip Up Extension • Call Colonial 800 265 9019 For Best Price • LED Lighting At Dinette Rooflocker • Pull Out Faucet • Water Purifier • 42″x76″ Villa Dinette • Cutlery Drawer.
Lounge Decor
Front Overhead Rooflocker w/LED Reading Lights • Call Colonial 800 265 9019 For Best Price • 74″ Ultraleather Front Lounge w/Decorative Pillows, Recline & 2 Power Footrests W/Center Fold Down Arm Rest (30RB) • 66″ Ultraleather Side Lounge w/Decorative Pillows, Recline & 2 Power Footrests (33RB) •2 Lounge Pillows • Storage Bins Below Sofa • Mocha Cherry Or Cognac Maple Magazine Rack.
Appliances
15,000 & 13,500 BTU Air Conditioners w/Heat Pumps & Electronic Control • Alde 3010 Central Heating & Water Boiler W/Alde Flow • Comfort Control Center II • 3-Burner Stainless Cooktop w/Oven w/Stainless Door (Optional Drawers In Place of Oven) • Stainless Steel Range Hood (Baraldi) With Stainless Steel Vent & Led Light • Convection/Microwave Oven • Fantastic Roof Vent W/Rain Sensor and Motorized Lid • Call Colonial 800 265 9019 For Best Price • 12 Volt Bathroom Exhaust Fan • 9 Cu.Ft. 2 Way Automatic Refrigerator (Black Frame With Stainless Steel Door w/Adjustable Thermostat) • Smoke, LP & Carbon Monoxide Detectors • Probeless Tank Monitoring System (Integrated Into Multiplex System Control)• Fire Extinguisher.
Entertainment & Sound
Radio Antenna • Clarion Digital Media Player W/Display for iPod/MP3 & External USB Input • Smart LED 32″ HD TV With Articulating Wall Bracket (30RB) • 65″ Powered Drop Down Screen Smart HD Projection TV W/Bose Sound Bar (33FB) • HDMI Cables • Blu-Ray Player With Any Net Feature • Call Colonial 800 265 9019 For Best Price • Factory Tuned Polk Audio Surround Sound • Active Subwoofer • Cable & Portable Satellite Hook Ups • TV Antenna, Signal Amplifier & TV Jack • Bedroom LED 22″ HD TV With Articulating Wall Bracket, Blu Ray Player Connectivity, HDMI Prewire.
Electrical
2 Deep Cycle AmG Group 27 Series 12V Batteries In Parallel • 7-Way Trailer Plug • 50 Amp Service With Detachable Shore Cord • 110 Volt 50 Amp/12 Volt DC Power Center With 55 Amp Converter & Multi Stage Charger • Call Colonial 800 265 9019 For Best Price • 120 Volt Exterior Outlet • Water Pump Switch At Galley MUltiplex Control • Electronic Battery Disconnect • Exterior LED Lighting Package Includes: Hitch, Dump Valve, Exterior Compartment • Solar Prewire • 1000 Watt Pure Sine Wave Inverter • 3 USB Charging Stations • Voyager Wireless Back Up Camera System W/Monitor • 240W Solar Charging System W/Charge Contoller and Display • Multiplexing, or Touch Screen Technology with Smart Control Technology.
Systems
40# Aluminum LP Bottles w/Sight Gauges (2) & Remote With Deluxe Panel • Automatic 2-Stage Regulator • Shower Head • Water Heater By-Pass Kit • Lockable Stainless Steel Water Fill • Call Colonial 800 265 9019 For Best Price • Water Pressure Regulator • 54 Gallon Fresh Water Tank • 54 Gallon Fresh Water Tank • 39 Gallon Black Water Tank • 37 Gallon Gray Water Tank • 12V Tank Heaters • Sewer Hose Storage Tube • No Fuss Tank Flush System • Safety Chain Hook 11,700#- Meets CSA.
Weights & Measures 30RB
Exterior Length – 31'3″ • Exterior Width – 8'5.5″ • Interior Width – 8'1″ • Exterior Height With A/C – 9'9.5″ • Interior Height With A/C – 6'7.5″ • Hitch Weight (W/LP and W/O Options, Water & Cargo) 886 Lbs. • Call Colonial 800 265 9019 For Best Price • Unit Base Weight (W/LP and W/O Options, Water and Cargo) 7,788 lbs. • GVWR – 10,000 lbs. • Net Carrying Capacity (NCC=GVWR-UBW) 2,212 lbs. • Fresh Water Capacity – 54 Gallons • Grey Waste Tank – 37 Gallons • Black Waste Tank – 39 Gallons • LP Capacity 80 Lb (Two 40# Aluminum LP Bottles) • Sleeping Capacity – Up To 5.
ALDE FLOW
Hot water as much as you want. Alde Flow offers you hot water as much as you want. Alde Flow is a separate hot water tank, which you connect to the water-glycol circuit of the vehicle. The hot water tank warms the fresh water before it reaches the boiler's actual hot water tank. Alde Flow, together with the Alde Compact 3020 HE, delivers continuously 104 ° F hot water when the fresh water supply is flowing, when the Boost mode is activated and a flow rate of .93 g / min (capacity of a normal shower mixer). Alde Flow is an extra 1.58 g hot water tank.
Firefly Multiplex System All of the switch panels and control modules/panel(s) are connected together by a single CAN network cable. Furthermore, each load (light circuit, pump, valve or motor) connects directly to its assigned control module or panel, without the need for additional breaker/fuse panels, switches or power distribution terminals within the circuit.
Significant Wire and Component Reduction—The Spyder Network can offer a 40-75% reduction in the wiring and harnesses required by a 'conventionally' wired electrical system, saving space, reducing weight and associated effort. Additional savings are achieved by eliminating the need for any external dimmers, transformers, breaker/fuse panels or 'Master Controllers'. Greater Production Efficiency—Fewer components, reduced connections and simplified installations work together to increase overall efficiency through the various stages of the manufacturing process.
Unparalleled Flexibility—The modular design of the components in the Spyder Network allow the system to be scaled to size for any project—large or small. It also offers the flexibility to add, remove or revise any part of the system during production or post-production.
Added Convenience—Operate the lighting, window coverings and mechanical systems from multiple convenient locations with the simple touch of a button. Control of all of the various systems are seamlessly brought together into attractive and uniform user interfaces, eliminating the need for many different types of unsightly displays and operator panels.
With all-new Smart Control Technology, you can control and monitor your Airstream Classic's most important features and amenities from anywhere — and stay connected to the comforts of home, even when you're far from it. That means a more comfortable camping experience every time, everywhere.
THE LISTED ITEMS ARE STANDARD ON THIS MODEL AT NO EXTRA CHARGE UNLESS REPLACED BY OPTIONAL EQUIPMENT.